Thinking about lighting for your band, you think colour. A few really cheap PAR cans with coloured gels in them can transform the mood of your stage. Stage lighting filters are available in hundreds of different gel colours so On Stage Lighting did an unscientific straw poll of some stage lighting designers to find out their best filter colours for lighting a small band gig – to help you choose your own.


There are several different manufacturers of lighting gels but Lee Filters in Europe and Rosco in the USA, are the most popular. Because we spoke to a number of LD's in the UK, their favourite band lighting gel numbers were mostly in Lee Filters numbers, which are traditional in the UK. We have added Rosco Supergel/Roscolux similar equivalent numbers (R##) and many of the stage lighting filter manufacturers have been starting to align their colour index to match up with their competitors. A good expample of this is the Rosco E-colour range, which matches the traditional Lee lighting gels while the Lee 0## gels are similar colours to the traditional Rosco Supergel filters.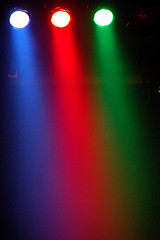 Image by Herkie
The filters are chosen to give you maximum impact while maintaining a fairly good light output, so the gels are all strong colours that are the backbone of stage lighting for a band gig.

Red Lighting Gels
No band gig is complete without some red lighting and these gel colours are the best reds in the live music business:
Lee 106 Primary Red (R026): The original red lighting gel, this gives a warm fiery red light.
Lee 027 Medium Red (R027): A good all purpose red gel that does what it says on the tin.
Lee 046 Dark Magenta (R046): A really deep red gel that is much less hot or orange than previous filters.
Amber/Orange/Yellow Lighting Gels
A warm amber gel is great for those upbeat cheerful songs and give a bit of sunlight amongst all those moody blues and lavenders:
Lee 105 Orange (R15): This gel is actually a really nice rich yellow colour that is warm and not too green.
Lee 134 Golden Amber (R321): The traditional amber for band lighting. Slightly more orange than L105.
Lee 777 Rust (R2002): A deep brownish orange gel that is great if you don't want your colour too yellow.
Blue Lighting Gels
From moody Jazz gigs to huge boy-band spectaculars, blue is the biggest thing there is in band stage lighting design. Blue gels always look great. It can be worth putting "doubling up" (using twice as many blue stage lights as other colours) your blue lights as the light output for a really good rock 'n' roll blue is less than other filters:
Lee 079 Just Blue (R079): A vibrant blue that is not too green and not too purple. It also has a high-ish light output.
Lee 721 Berry Blue (R074): A deepish moody blue gel that can produce both warm and cold blue light.
Lee 120 Deep Blue (R384): A really deep dark blue that still has a decent light output. Lee 119 is slightly lighter.
Lee 181 Congo Blue (R382): No band stage lighting is complete without Congo Blue. Dark and moody purple/blue that is sometimes incorrectly called UV or Ultra Violet. A fantastic lighting gel though you don't get much light through it.
Lavender/Purple/Pink Lighting Gels
The ability to look warm or cold gives lavender a useful place in band stage lighting. You can't be without some of these lighting gels. Pink lighting doesn't have to be too camp or Burleque. A good deep pink can go with blues or ambers (or green, if you like the halloween look):
Lee 180 Dark Lavendar (R337): Dark enough to be worth using while still give a decent amount of purple light.
Lee 142 Pale Violet (R355): A light violet/lavender gel that has a good light output and a bit of useful colour.
Lee 126 Mauve (R049): Proper band lighting deep pink for rock 'n'roll.
Lee 328 Follies Pink (R344): Camp and Broadway-ish for all you disco queens. Also Lee 128 Bright Pink.
Green Lighting Gels
The least used colour gel in band stage lighting is green. It makes the band look ill and make the audience feel pretty sick. Most of our lighting designers would not actually choose any green gels [Update: Unless you are lighting a Death Metal band – as pointed out by Kjitel]. We have picked a couple of green filter colours anyway:
Lee 116 Medium Blue/Green (R095): This sea green/blue was pretty much as green as we could stand. Good light shining on metalwork such as drumkits.
Lee 124 Dark Green (R??): A space age metallicky green that would be OK on sets or backdrops.
Lee 089 Moss Green (R089): A warm dark yellowy green has a organic, nature feel about it. Not sure how useful that is for band lighting, though.
White Band Lighting Colours
The light you get from a normal PAR Can without a gel is pretty yellow. The big live music gigs get their really bright cold light out of a different kind of stage lighting bulb that is fitted to their expensive moving lights. This sort cold while light is pretty tricky to achieve with normal lighting gel but you can try Lee 201 Full CTB or Lee 201 202 Half CTB to make your lights seem colder. Any kind of very light blue filter will make the yellow light of a tungsten PAR bulb less warm.
If you would like to add your favourite band lighting gels to this article, please leave us a comment below and let our readers know your best filters a simple music gig.