In the run up to the season of outdoor concerts and music festivals here in the UK, On Stage Lighting looks at a reality in concert lighting, the benefits of having different information and asks you "Which is more important to you? Knowing the music or knowing the rig?".
It's a secret kept from the Billy Bunters, but a large proportion of concert lighting is the product of the unknown. Wrangling a lack of information is the stock in trade for many techs in the concert and events business. A lot of shows are done on the fly by people who really should be paid more for their talent and creative techniques.
I was recently called in as "house lampie" at a local venue. The band to play that night had all the usual, sound crew, backline techs but no dedicated LD as such. For lighting, I checked and prepared the house rig in anticipation of either having to run the show myself or hand it over to their regular Tour Manager who was arriving later in the day. A bit of busking programming done, palettes checked and tweaked, faults sorted.
An hour or so before the support act went on, I'm stood the desk and feel a presence before seeing the familiar sight of a hand to be shaken, names to be exchanged – the aforementioned Tour Manager. Standing there, between the TM and myself, we had the full picture: I'd used the rig a few times before and had programmed a few pages of subs for busking, he knew the show and the music, down to the last beat.
The usual conversation takes place, more often in a leaky Kwikform FOH tower as sounds of rain and crowd anticipation filter though the earplugs. I run through the kit, the programming I've done and we discuss who will run the show. He's not the band's LD per se and is a bit rusty on the desk, so having listened to what I've created for him work with, he requests a couple additional tools to be programmed and we leave the question of who is running the show open for now.
Show time. I run lighting for the support act, of course. They are OK, pretty dynamic and I busk some decent looks together with movement and accents when it's obvious. I know where everything is on the desk, so can play along quite well. Having worked there a few times recently, I also know the rig well enough to know all those little things that can add up to a good stage picture, angles that work well and nice balances between fixtures. But I don't know what they are going to be playing or what is coming next 🙁 The result is good, however.
Time for the main act. TM decides that he fancies running the show and will see how it goes, I hover to field questions. It goes well, the lighting is obviously a different style, not just because everyone has different eyes but also because there is a limit to what you can do having only just walked up to an alien desk and rig. He excels in knowing every song, every beat and every break – dynamically right on the money.
It started me thinking about the nature of busking concert lighting from different perspectives. So, why not look at those perspectives and break them down to analyse their strong and weak points?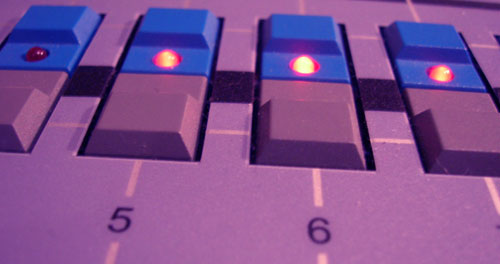 Knowing The Rig
Give me a rig for a second night, and I will create better lighting than last night. Last year I was depping for a friend of mine for two days on an indoor festival. His rig was nicely flexible and the focus good (really can't over emphasise the importance of a good focus, eh?) – I created a page of subs for my own use even though he and I use a console in a similar way. The first day went well, you can feel your command of the stage growing as you get used to the kit and programming – after all, this is your instrument. On the second day, I added some of my own "hey, I've got time" special palettes and tweaked a few things. Result? Really kick ass lighting!!
So, what's good and bad about knowledge of the rig and the programming?
This is your instrument – it's helps if you've played it before.
Able to concentrate without thinking about the technicalities of doing stuff – heads up, looking at the stage.
Understanding of what really doesn't work with what you have.
You have found those happy accidents: good positions or angles, fixtures that catch something nicely or colours that work well.
You have more time to see.
But
Never quite sure what song is coming up, in order to choose colour combinations and nail them every time. Erk, this isn't a blue song?
While you can react to dynamics and a lot of music is pretty predictable, you are always slightly following.
Tactics and Techniques?
Use time you save looking at the desk to constantly evaluate the stage picture, you don't need to mentally compute what you are doing so use your energy to keep looking and keep up with what's happening visually and musically. Line up your best base layers (like decent colour washes), use them to underscore more complex stuff and to return to when you need to "stop all that a-wagglin' and a a-strobin', like, yesterday!" Always know how to stop stuff like chases and movements instantly. If you don't get the beats, do something that isn't a rockin' out bump fest, movement speeds or even shutter chases that are more textural and less beat dependant.
Knowing The Show
Just like the previous perspective, give me a second show and it'll be better than the first. In the world of concerts and events, many shows only happen once and often with little rehearsal. After a while you get used to the idea that you all do your best as professionals, what happens happens. But doing a rare show for a second time helps you remember how much better it can be and the luxury of rehearsing.
You know the set, you can be ready for the next thing. Colours parked up, specials ready to go.
Hardly miss a beat and aren't surprised by a sudden stop (there is nothing worse than moving lights still moving when they obviously shouldn't be)
but
May be not aware of all the tools available or the capabilities of the rig
Haven't tried out different combinations or looks
You may spend more time looking at the console than the stage
Tactics and Techniques?
Your show is made by hitting that beat, so make sure you have the ways and means to bump like a demon. Three intensity subs work for me, or split the blinders into two sets. Keep them on your free hand (left hand on many consoles) so you can select and adjust other fixtures while keeping the beat.
Concert Lighting – Ideal vs Reality
Obviously, in an ideal world we'd all have the rig of our dreams, plenty of rehearsals and everything would be just dandy. But like we said at the start, a lot of concert lighting is created using the only information available. That may be a knowledge of the kit or of the show but often, it ain't both.
Geek Out: Lighting Techniques  – What submasters were used?
As an aside and for your interest, here is the recipe for the secret lighting sauce that night. All submasters are programmed as attribute only faders (not whole fixtures) to retain flexibility. A rundown of the subs used in addition to the usual fixture selection tools and palettes that would do the bulk of the work.
Generics
Not may generics in the rig: Front fill light, Specials Intensity (Source Fours with Apollo Right Arms, position set by palettes), House Lights.
Intelligent Intensities
Get those fixtures on: Washes, Spots, Scans, PixelLine intensity on individual subs
Make those fixtures chase: Same deal, shutter chase, fader position controls speed.
Strobe: Make some of the rig strobe. Different strobes according to fader position, strobe released on fader out.
Bump Splits
Intensities, splitting the rig into three sets: For beat bumps and kickin' that beam structure around the roof.
PixelLine: PL intensities, split across 2 bump subs.  All together now, Flip, Flop etc.
Movement/Position
Moves with speed controlled by fader position: Circle, Tilt Saw for both Scans and Washes. Could have used simple Pan Only Saw and Tilt Only Saw and mixed them but it uses up too many subs on several fixtures types, so Pan Saw was left out for the rig layout in question.
OUT: This is my all time favourite sub and one I use on most concert shows. It's a position only Crowd position controlled by fader. Fade in, the heads all move out from their starting point on stage, fade back, they return. Move position by fader means that you can also do quick moves DJ style especially with scanners. In this case, there were no dedicated blinders.
So, there you have it. A hand full of subs for a truck full of shows.
What do you think?
During the show, I asked the question on Facebook and Twitter : "Which is more important to you? Knowing the music or knowing the rig?" which received a range of responses. Some came down on the side of knowing the instrument well enough to be able to play along while others suggested that knowing the show was the better option, being able to hit every beat was desirable.
This is an interactive so let us know what you think. In that situation, would you rather know the setup or the show? And what are your own approaches and techniques in these different situations? Come over and put your comments in the box below as usual 🙂