On Stage Lighting is Free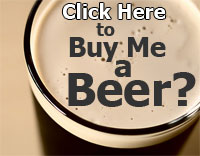 On Stage Lighting is full of genuinely useful, unique and free stage  lighting information that has helped many people in their quest to learn more about the subject including console programming, moving lights or traditional lighting design.  I've never viewed OSL as a one person site, but the fact is that 95% of the stuff here is written by me, drawing on over 20 years of professional lighting experience.
The quality of content at On Stage Lighting is on a level that you would normally expect to have to spend £££s on buying a stage lighting textbook. I'd like to think that access to the site was a must have for anyone learning lighting design and technology. And hey, it's free too?
As well as the website here, what you don't see is that I also spend a lot of time helping readers personally with their questions via email, Facebook etc. as well as through the comments on the site.
I enjoy it!!  But is does take my time and money.
I trust On Stage Lighting readers to make an appropriate donation if my knowledge or insight as helped them in to gain more understanding of a complex subject.
Why donate?
Articles do not write themselves, servers and web development all have a cost, both in time and financially. Since 2007, I've put countless hours into creating and maintaining On Stage Lighting and have written the majority of the articles, drawing on my years of professional experience to help you, the interested reader.
Without the advertisements and donation income, On Stage Lighting wouldn't be able to provide great stage lighting related content for free.
How much is 20+ years of stage lighting experience worth to you?
If you are grateful for what On Stage Lighting provides, you can say "thanks" easily by donating using my Paypal account, either using transfer or credit/debit card.
Y'know, just buy me a beer!  CLICK HERE TO BUY ME ONE!
If you really do not want to donate, you can still show your appreciation. Here are some other ways to support On Stage Lighting:
Link to or write about one of the articles here.
Tweet or Facebook and share OSL with your social circle.
Book me for a stage lighting workshop or consultancy.
Purchase advertising on the site.
Send an email to a friend that you think might appreciate On Stage Lighting and let them know about the site.
Thanks for the Donations!!!
On Stage Lighting has received donations from happy readers, all saying how they appreciated the help that the site and the information it has to offer. Many donors are not that comfortable with their details being shared, so instead I'd just like to say a personal thank you to everyone that has donated so far. Thank you.
Rob
Image based on a photo by mccun934