In a series of interviews, On Stage Lighting spoke to four industry professionals about getting a first job in the lighting business. This article considers the results and what to think about when choosing your stage lighting education.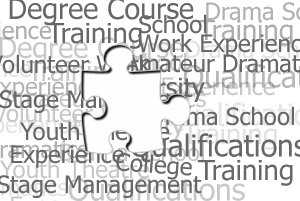 If you missed the interviews, they were: Stage Lighting Education – Theatre Electrician…, Production Lighting…, Lighting Designer…, Hire Company…
Our experts gave us an peek into the minds of potential employers and how they pick new talent in their own industry areas. While expressing their views differently, some common themes emerged. These are important if you are looking to give yourself the best chance of a career in professional stage lighting.
Our employers highlighted what is important to them when looking for new members of their lighting team. Only you can decide what stage lighting course, work experience or personal development is best for you.
Formal lighting training isn't everything.
Although our experts thought highly of good quality stage lighting courses, industry qualifications and practical training, no one said:
"If you don't come to us with a certificate in X, we won't give you a job!"
What they are looking for is a demonstration of the ability to commit to learning, however displayed. Modern employers are happy to you provide high quality training, but can't afford to spend money on time wasters.
Our experts also were keen on "the right person" – personality, attitude etc, regardless of the wheelbarrow of training certificates you heaved into your job interview.
Relevant Experience
Relevant experience, in stage lighting, theatrecraft or performing arts is important to stage lighting employers. You don't need to know every moving light, how to program the Grand MA or write your own Fixture Personalities for fun (who does that?). Relevant experience just means an understanding of shows, the hours and ethos of working backstage. School shows, Am Dram productions, lighting local bands – anything.
If you can get your experience in a professional environment like a local theatre, even better. This method of getting stage lighting experience is still possible, although it might seem difficult.
(There is concern among budding "lampies" about being to get good experience at a young age, on grounds of insurance and safety legislation. On Stage Lighting has an article in the pipeline that deals with young people, employers and H&S at work or school.)
A wide range of experience.
All our stage lighting employers told us that a wide experience of all aspects of technical production was preferred. It is good to understand all departments, their roles and difficulties, in order to work effectively as a production team. Broad, technical stage management courses are still popular with lighting employers. There are lots of ways to learn specific stage lighting skills.
So, think carefully before doing that MA in Gel Apportionment (That's cutting colour, y'know).
Having a degree does not make you a Lighting Designer
The subject of graduate expectation came up with our stage lighting employers. It is also a subject which is talked about by old lags in the lighting business (me included). Having spent a few years and a lot of hard earned cash of becoming a "qualified" Lighting Designer, you might expect to be able to burst into the stage lighting business – your name in lights in the West End. It may be disappointing to find out that your qualifications do not give you an instant pedigree as an LD or other senior position, ready to take over the world aged 25.  That is not to say that a Technical Theatre Degree is not a great start on the road to a professional career.
Becoming a senior lighting professional is more than doing a few school shows, going on an expensive course and then waiting for the offers to roll in. But then you probably already knew that.
The Usual
The Careers Officer advice about personal presentation, attitude and punctuality seems pretty boring coming from a middle aged woman in a beige jumper, but our all our stage lighting employers cited these factors. It doesn't matter if you are looking for a job in stage lighting or nuclear physics – employers want this stuff.
The Answer?
If you have read this series so far, hoping to find the definitive answer to "What is the best stage lighting education for me to get a job?" – Sorry. This information should help you find about your own career path and give you some ideas on how to start your own stage lighting journey in education.
Good luck for the future. And don't forget to keep in touch with On Stage Lighting when you are a superstar LD like Durham Marenghi.