The modern stage lighting industry is extremely changeable. The call for lighting techs goes up and down like a truss rigged on elastic, it's what they call a flexible labour market. So, production companies rely on freelance technicians ( freelancers, freeloaders [insert term of abuse here]). Becoming a freelance lighting tech seems like a good deal from the outside and this article takes a look at what it takes to be a freelancer and the ups and downs of the self employed lighting technician.
What does being a freelance lighting tech involve?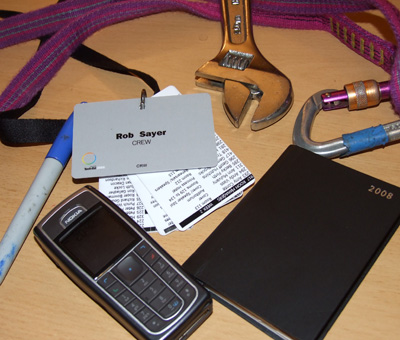 Freelance technicians of all abilities are contracted on a temporary basis to take on different jobs within a lighting crew. While working on the production, they take on the "hat" of the company they are contracted to but are expected to be self-employed, pay their own taxes and run like any other small business. The tax authorities have some special measures the determines what is a contracted freelancer (not an employed temporary worker) but let's not get into that today. Many shows have crews made up almost entirely of freelancers who then disperse after the production is complete.
What skills do you need?
A Freelance lighting technician must, at least, have a good understanding of working practice in stage lighting. Being able to rig, focus and fault find are the minimum requirements with further skills such as lighting desk operation, roped access, electrical qualifications and other certificates being an advantage. The more wide ranging your skills, the better. And mobility. A driving license and a passport that isn't down at the local police station means you can get to your next gig.
The less tangible skills for a freelancer is the ability to get on with other people and work in teams, as well as being able to work unsupervised. Freelancing is awash with new faces and situations so being able to cope with pressure and change is a must. These are all vital "on the job".
What is less obvious are the personal skills that a successful freelancer needs away from the gig. Building up contacts and personal relationships within the industry helps get more freelance work. Good stage technical freelancers can come unstuck if they don't possess good personal finance discipline. Being able to budget and control your own money is essential when you are working in such a precarious employment situation. Even if you have a good accountant, you still need to be in control. And some people just don't like the thought of not knowing where the next pay cheque is coming from.
There are some other requirements to "going freelance". Self employed status, your own tools and transport, producing quotes and invoices etc. And insurance to indemnify yourself against any claim made against you in relation to your work.
The good bits about being a stage lighting technician..
Work flexibility – Ultimately, you can choose what work you take. "Where? Oh, no I think that my cat's got a dentist appointment that day?"
Travel – Planes, Trains and Automobiles…. And maybe some nice hotels.
Meeting new people – You end up knowing loads of people in the stage lighting business. ( And running into them all in the bar at PLASA)
Time Off – When not directly on a gig.- No going "back to the office" after the gig is over. Daytime television, mmmmm!
The bad bits about being a freelancer..
Work Flexibility – When you need work, you don't get any choice which gigs you do or how they muck up your other plans.
Travel – Endless hanging about at airports and being stuck in traffic on the motorway. And being away from your family.
Meeting new people – Not everyone is a nice as you are.
Time Off – There nothing like having no work in the diary for post-Christmas depression.
So, can I make my first million as a freelance lighting technician?
It's unlikely. Many people think that being on a decent daily rate (how you charge for your time as a tech) means that you must be raking it in. The reason that freelancers "seem" to be paid so well is that is to compensate for the level of risk of being a self employed. Don't forget that they have to pay tax, national insurance and other business costs too. And there is a limit to how much a freelance lighting tech can earn. There are only 365 days in a year – you do the math. Depending on your particular stage lighting business, it can be hard to fill up every day of the week. Gigs are often all on at the same time and you can only do one at a time (well, mostly).
Having said that, being a freelancer is OK. I have spent nearly 15 years as a freelance "lampie", LD and Production Manager. I have a house, kids and all the usual stuff. The family of a freelancer has to put up with a lot of instability in their lives too. But it's just a job like any other. If you have any questions about being a freelance lighting technician, put them in the comment section below.
If they say that "you're only as good as your last gig" , let's get on to the next one!