To bring you a PLASA Show round up for 2010, On Stage Lighting braved the crowds and sensory assault that is two exhibition halls stuffed with the brightest and most efficient light sources in show business.

If you've been reading OSL for more than a year, you'll know that part of the publishing calendar is our popular report from the UK's biggest industry get together, the PLASA show. Four days of techie talk, shiny new kit and no doubt a certain amount of alcohol, PLASA is more than just an opportunity for the black t-shirted inhabitants of the underworld to emerge into the light. Apart from the opportunity to collect swag and run into people, PLASA is also at the heart of the industry in this country, where kit makers and users all converge, deals are done and contacts made.
Recent developments in my own career, added to the usual motive of getting down and dirty with those that service the entertainment industry, I attended PLASA this year wearing more than one hat. Four days of product demos, seminars and walking miles around Earl's Court 1 and 2 takes it toll but it does give the OSL readers the inside track on what's happening in the world of stage lighting.
Is it easy being green?
Sorry, Kermit, apparently it's easier than you seem to suggest so long as you can at least tell everyone how green you are. Wandering among the exhibits, there was definitely a green theme to the show this year.
Aside from a number of seminars focussing on the industry and how we can reduce our impact on the environment, it seemed like every other stand had something to tell you about their product's green credentials. And it is a genuine issue that we need to address, not least because of new carbon emission legislation and targets on the road ahead.
With the ever developing LED market, plus other lamp and optical improvements, many exhibitors seemed to want to emphasise their green streak. After last year's success with an award winning Robin plasma lamped fixture, Robe were showing a range of super efficient moving head fixtures with more conventional discharge lamp technology. Their claim on the green tick was that the new fixtures were similar in brightness to older heads that previously required twice the power consumption, saving not only power but weight, space and materials use. A fashionable spin on the time old "well, this year, we made it brighter" trade show line but there is no doubt that kit makers always find a way to make things chuck more light out.
The furious rate that LED technology is evolving, with not only brighter sources and better optical quality but also better colour rendition, it seems like everyone has a green story to tell. The Phillips family (Selecon, Strand, Varilite et al) were showing non moving light units with light sources using the Varilite VLX engine with decent colour mixing, rendition and beam quality. iPix also showed improved LED fixtures, ETC brought their ever expanding Selador range, Wybron had a new LED wash light, everyone wanted to tell you about the latest gen of their coloury splat lighting. Evidence of real LED improvement was everywhere.
Speaking of Phillips Selecon, I had to check out the new SPX profile spot. The fixture that it's creators hope will provide serious competition for the ETC Source Four ranges that are still making up a large part of the industry inventory. Reports of a shoot out between the spot and it's competitors were apparently favourable and interestingly the fixture incorporates a number of parts made from a polymer rather than the traditional metal, similar to other Selecon fixtures. Features included interchangeable lens assemblies (both zoom and fixed), easy access for cleaning and a shutter lock off and the familiar 3 way Selecon lamp adjustment which, let's face it, is a lot easier to deal with than the traditional S4 setup. The fixture seemed to tick a lot of boxes and perhaps could gain some traction in venues, despite being a newcomer in a worldwide hire stock rammed full of the famous ETC lantern. Wasn't completely convinced by the SPX tilt lock off but…
As usual, there were new/improved lighting fixtures from manufacturers too numerous to mention, but PLASA this year seemed very much about light sources, with a return to the importance of traditional lighting values, such as colour rendition, along with the whizzy techno stuff. Several stands had mannequins dressed in colourful clothing, in order to demonstrate the capabilities of their fixtures, something can be forgotten : we spend a lot of time lighting people on stage, not just produce waggly light pollution and squirting media clips in every direction.
The second big theme at the PLASA show 2010 seemed to be something less obvious to the average audience member…
Control and Infrastructure
While some years, the industry seems to be producing endless shiny new fixtures or announcing flagship consoles, PLASA 2010 was much more about integrating systems and control progress.
A special RDM stand, featuring manufacturers dedicated to that implementation of bi-directional lighting communication, was just one part of a whole show floor full of networked this and integrated that.
The Lumen Radio and W-DMX wireless systems took the cable out of control signals, computer based lighting control platforms such as Cuelux and Trace Lighting's LimeLight had their own take on controlling lighting systems. Several USB – DMX output devices were displayed as well as neat RDM hardware and software from James Embedded Systems Engineering.
GDS showed us that it is possible to network almost anything with their new cueing system of prompt desk, nodes and cue light outstations all with centralised control and the ability to program and manage a cue stack of Standbys and Gos. A one-off underwater cue light unit design with standby acknowledgement plunger (for a show using divers) reminded us that GDS are at their best designing solutions to unusual problems.
Every media server prided itself in the various systems of integration and compatibility with control surfaces (and improved mapping and image tools) while the pre release Byron build of the Jands Vista software (apparently really nearly ready this year) boasted even better "stage picture" building using it's single point of contact with both lighting and media with their interface, which could be said to be extremely well suited to shows of the future.
Other companies decided to pull together disparate control systems, such as the Midiator surface which aims to provide a single cueing point for a range of other controls such as lighting, media and motion.
Cast Lighting offered a software solution to the integration problem with it's Black Box engine that takes data from a number of other manufacturers controls and in turn instructs different elements to create complex, coherent shows with 3D motion control, lighting, media and IR tracking.
In the traditional lighting desk space, probably the biggest shift for any one manufacturer was the roll out of a whole range of touchscreen versions of their most popular consoles after the first glimpse of the Tiger Touch last year – all based on their Titan platform. Even though plenty of older Avo fans have still not quite got over the early versions of their Titan, the stand was crawling with eager button pressers all trying get themselves an Avolife. Apparently the latest Titan releases are much more coherent and stable and I know plenty of LDs who are pleased with the result of Avo looking to find their way over the brick wall that their great classic hardware was creating in the new world.
In the last few years, I have found it hard to engage with the Avo stand despite being a regular user of their products. In days gone by, you could quiz Steve or Richard about their latest offerings and get some informed opinion, bounce ideas around while learning more about what they were trying to achieve with their controls. These days, if you can face the bun fight of fan boys and carrier bag hander outters, you might get lucky and get a demo from a teenager who seems to know a whole lot less about lighting programming than you do. This year was no exception and at the first mildy challenging question relating a console to former products (which they had obviously no experience of), the poor guy struggled and I started to lose interest in the fact that you could draw a picture on the touchscreen. I also spoke to a pretty big name in the moving light world who was pretty shocked when he asked during a demo at Avo about RDM and the poor unfortunate could only say "What's that?". Anyway, I think that there is something to be said for having demos from people with a lot more experience than two weeks in the warehouse with the latest product.
Coolux were showing a great interactive tool for screen media, alongside their very good media server. Called AirTouch, a scanning head recognises gestures in front of a screen for interactive displays. Because the system is based on motion sensing rather than touch screen technology, it has the advantage of being able to scale to pretty much any size and use either projected media, led panels or plasma screen arrays. The stand had an interesting combination of panels with a single plasma screen in the centre.
Sooooo much more…
Away from the shiny products, the PLASA show continues to grow as a centre of industry knowledge and education. It's National Rigging Certifcate training, rigging and AV conferences as well as some great seminars and masterclasses, particularly from InfoComm this year, make attending for all four days even more of a must. This year the new Skills and Qualifications Zone housed a handful of the UK's most popular theatre production courses and many interested parties from the world of education and employment came together to discuss the future of industry training at a seminar hosted by the National Skills Academy.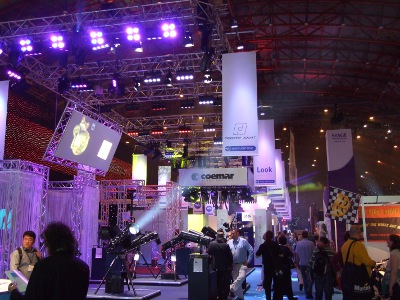 As the PLASA show continues to evolve in other directions aside from providing a large space to flog shiny toys, it will also continue to become ever more important in our business calendar.
If you looked past the banks of waggly LED washlights and big screens, PLASA 2010 was crawling with little widgets and wires that made shows happen, education and training, industry discourse and deliberation alonside innovation and recognition.
Oh, and everyone had an iphone app…