UK based touring LD Mark Wynn-Edwards takes time for a chat and to tell us why, despite years of being an Avo man, he now owns and uses a Jands Vista.
The Jands Vista has been around for quite a while but isn't one of those consoles I see regularly on the road, at least not in the UK. With no particular incentives or word from other LD's, I have to confess to have left the Vista on the list of " Oh, yeah. Saw that once at PLASA" desks. Let's face it, until all your mates start raving about a desk or one turns up in every control position, things remain on the backburner. Maybe I would take a look … one day.
Mark Wynn-Edwards has toured as LD/Programmer with many acts including Grace Jones, The Klaxons, Jamie Cullum and As I Lay Dying (quite a mix, then). Finding out that an LD like Mark had spent his own hard earned cash on a Jands Vista T2….well, it needed investigating! Time to find out what the Vista is all about and what better way than to ask Mark himself.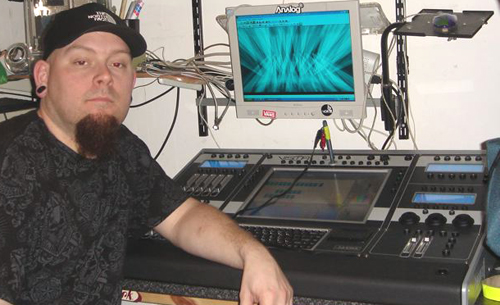 Mark in the office with his Vista T2
OSL: Mark, people occasionally mention the Jands Vista to me but I don't know a lot about it. Give me a reference point relating to other desk manufacturers and console types – where are the similarities?
Mark W-E: There are similarities as all desks are controlling the same thing. Running the Vista is like no other – it has more in common with Apple Imovie. I am led to believe Imovie was an inspiration, with the idea of having little "clips" that you place on a time line …..its a great way to work.
Some people have issues with the desk but once you have shed all the console baggage and assumptions, it suddenly makes a lot of sense and you realise that it's very powerful.
OSL: Most consoles and their associated press releases tell us they are equally at home in any lightng control situation. Do you think that the Vista has a kind of show that it really lends itself to controlling?
Mark W-E: Over the years I have had the desk I have used it for touring Pop, Rock and metal bands , corporate work and TV work – I have yet to use the Vista for Theatre . The console is equally capable in all situations and with a bit of use and thought you can even busk on it ….. contrary to what people think. You can create looks very quickly with just a few touches of the tablet. Very handy for corporate and Tv work when people are wanting and demanding instant looks.
OSL: You have a background in Avolites Pearls, Hog II and others, why did you decide to buy a Vista T2 for your personal desk?
Mark W-E: When I went shopping at PLASA I was looking for a desk to cover all the varied work I do so it would have to be happy in a TV studio or FOH at a gig. At the time I had a Pearl 2000 so I considered moving to a D4 and after a few hours at the Avo stand I was convinced this was what I wanted.

But …..

I went for a walk to think about it (spending a lot of money ) and also took a look at Hog as the III had just come out but we all know how the hog III was in the early days…. Then I saw the A.C lighting stand and this desk called the Jands Vista. Neil Vann gave me a demo and it just clicked – no more number crunching, just working and staying in the train of thought of what I am trying to do with the lights. Simple as..

A week later I was down at AC for training and picking up a Jands T4 …I couldn't get home quick enough.

Never looked back ………and with each update the desk improves and you get fantastic support from Jands. They also listen to the operators when they ask or suggest options for the desk.
OSL: Like a lot of lighting controls, Jands have a PC version for learning, pre-patching etc. How does the interface compare with the real thing?
Mark W-E: The PC/Mac version is identical to the real desks. I have a version on my Apple that I use to try ideas out, or after a show make changes while they are fresh in my mind to reload the next day. I also use the Apple version to test fixtures with the USB –DMX cable that Jands do. Its a very handy little thing. With the addition of a DMX dongle and one of the many playback wings, you have a fully working Vista desk

I plan to build a super portable version of my desk for those gigs where you fly out do the gig and fly back. And for touring and festival use where you have to use some sort of hell desk at times.
OSL: It is possible for a beginner to make a good start learning on just the PC version?
Mark W-E: The PC/Mac version is an ideal way to learn the console or brush up on what you know.
OSL: Jands highlight two features of the Vista in particular – less keypad style entry and the timeline. I left number crunching behind in the theatre, but timeline has been around in various forms for a while. Tell me why I should fully embrace the timeline as a Lighting Designer?
Mark W-E: The timeline has numerous uses depending on how you use the desk. Its great way to work as you can see precisely when things happen and what the lights are doing .- very handy if you get a rogue fixture doing something it shouldn't.

If required you can set moments for a show to happen bang on time using the time line. You can add MP3 tracks to the time line this is great as you can program to the mp3. You have to remember to put pauses in there to allow for the band playing it differently.
You can get the desk to Cue other Cues – load media on a server so its ready to go or get fixtures into position so you don't get that classy moment where lights go woosh across the stage.

Having the desk do all these things make operating a show a great experience and help make the show be quite fluid and live.
OSL: You work on a lot of live music touring. What's your typical programming and playback style and what kind of notes are always on your programming To Do list?
Mark W-E: How I run my desk varies from contract to contract but normally it's a page for every song – then each page has the elements of each song on a fader or a button
On the screen I have the control of colours and position or other stuff required -I try to keep it as simple as I can . And a page for the local tech to do the support bands, as always.
OSL: As well as the Vista, your CV mentions Avo and Hog consoles. Do you have any thoughts on the MA and Cham Sys desks?
Mark W-E: I don't know much about the Cham Sys desks but the MA is very impressive. I have used them a few times at festivals . I love the networking function where you have a master and slave desk. I saw that used to its limit on Chemical Brothers which was impressive.

But now I have the Vista way of doing stuff I get tripped up mentally when I have to go back to number crunching – I am used to doing a drag and drop or a simple click . But I would like to learn more about the MA.
OSL: For anyone just starting out in lighting and hoping to make a career of it there seems to be a lot to know nowadays. The skillset is growing rapidly and I am not sure that I could learn this complex trade in the space of a few years. Do you think that specialists will rule the lighting world of the future or do we just need to start changing the way we train lighting professionals?
Mark W-E: I think there will always be a place for the freelancer who can generally do stuff but high end shows will require and demand specialists as it can get quite technical at times.
The business has been headed in this direction since moving lights first came on the scene, starting with the VL techs . When not working as an LD, I work as a moving light tech, staying up to date. Modern fixtures cost so much to hire and generally you get one spare – you need people who can look at a fixture, know what they are doing and make it work . Not just the crew member who has some tools and is willing to have a bash.
Thanks, Mark.
So, I have resolved to try to make some time for the Jands Vista and maybe follow it up with another article. Perhaps On Stage Lighting readers would like to give the Vista a try and post your Vista experiences in the comments below. We'd love to hear 'em.