Stage lighting equipment is increasingly cheap to buy. This means that some new lighting equipment, intelligent lighting in particular, is now within reach of your youth group, drama society, school or church hall. The question of "What Intelligent Lighting Should I Buy?" is often asked when the time comes to upgrade your existing lighting rig. But there are some things to consider before you go on your shopping spree and blow your budget on buying the latest in cheap intelligent lighting.
Do we need to buy intelligent stage lighting?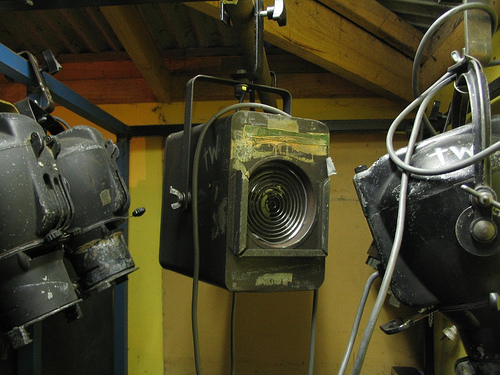 Do you think it's time to upgrade your stage lighting?
There's life in the old dog yet and the lens is fantastically clean too…
Thanks to toholio.
Having secured for bit of cash to spend on buying new lighting gear, you just can't wait to have a look through those catalogues and trawl the web for affordable DMX goodies. But before you start adding that adding those Var*lites to your Amazon wish list, let's back up a bit. What kind of shows do you need to buy this lighting kit for?
Buy Flexible Stage Lighting
Many non-professional groups have a wide range of lighting requirements, from a "vicar spotlight" through to the next staging of "High School Musical" and often flexibility is a big concern. That's OK then, intelligent lights are really flexible aren't they? They can do colours, gobos, move around, strobe, focus up……..
Buying a large number of profile spots and fresnels with barndoors can be just as flexible.
"Buy To Learn" Stage Lighting
Everyone wants to learn more in their chosen field and stage lighting is no exception. The thought of being able to buy some lighting equipment that you can really try out and get to grips with seems a lot more attractive than buying another ten of the those boring old 500w fresnels.
You can try out and learn more types of intelligent stage lighting without actually buying it.
The Intelligent Lighting Snowball Effect
No, that's not some kind of cool moving gobo but what happens to your budget once you make the move into intelligent lighting. If you could afford, for example, to buy two moving lights for your group you will still probably need to buy a lighting desk that can control them effectively. And some DMX control cables. And some mains cables. And buy a spare lamp. An what happens when one of these pieces of highly advanced lighting kit stops working? Repair costs can be expensive if you don't have the skills in-house.
The problems of maintaining equipment are not exclusive to intellient lighting equipment but they do require more skills and money that if you were to buy more conventional stage lighting.
OK, so you against me buying intelligent lights, then? You guys get to use all the cool kit, while we just have to put up with boring old rusty floods.
Not at all. Buy some new Source Four Junior spots, some more fresnels and , most importantly, a good stock of accessories such as gels, barndoors, irises, floor stands etc. These could double/triple the usefullness of your existing lighting rig and you might not even need any more dimmers or to buy another lighting control. Just plan to "pair up" your stage lights so they fit into your existing control system. And don't forget to spend a bit of money to get your existing kit fixed and working for you again.
Then get down to your local lighting hire company and start snooping around to see what intelligent lighting gear you might need to use on your next show. You might even get a demo and a bit of a play around – free of charge!
You might also be interested in:
Hire Stage Lighting – What You Need To Know