Hi there
On Stage Lighting is edited by me, Rob Sayer. I enjoy running this website, bringing my 20+ years of experience in both theatre and many other areas of show production to those wanting to learn more.
Taking a break after 15 years full time freelancing as a professional Lighting Designer and Programmer, I am Lecturer in Theatre Production at Bath Spa University in the UK as well as offering short stage lighting courses and training privately.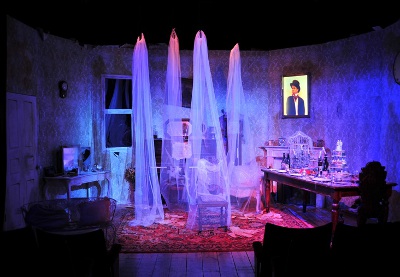 The Course
The Theatre Production BA (Hons) course is in an exciting and fast moving area of study and our reputation for producing high quality, professional and employable students is growing within the theatre industry and beyond.
Covering all aspects of theatre production; Stage Management, Lighting and Sound, Scenery and Construction well as Costume and Design, the course enables you to learn a broad range of skills, vital for a lifetime career in the theatre or related industry. Throughout a high quality learning journey, links with professionals in your chosen field, real venues and real shows are part of your daily life. As well as the state of the art University Theatre and our other performance spaces on campus, Theatre Royal Bath, the Ustinov Studio, The Egg and Salisbury Playhouse are just a few environments where you get to learn your theatrecraft.
The People
Head of the Theatre Production course is Michael Budmani, a professional stage manager with 25 years of theatre and touring experience with big names such as the Royal Shakespeare Company and Scottish Opera. With boundless enthusiasm, Mike teaches the huge subject of stage and production management, the production process and professionalisation plus is Technical Director of Bath Spa Live, our vehicle for producing and promoting live events of a professional standard.
And me?
Leading modules in Lighting, Sound and Audio Visual, plus transferable skills such as finding and securing work and building a career (our Professional Portfolio module), I bring my wide range of experience to the technical theatre subjects. Having spent the last 20 years on the road, not only in theatre but also live events, music concerts and festivals, I aim to teach students the reality of working backstage with a wide range of technical equipment. While specialising in Lighting Design (you might guess if you've read anything of this website), I also enjoy helping young people through the seemingly complex world of audio and vision equipment for live shows. If you are one of the next generation of theatre technicians out there looking for a technical theatre degree, it's right here.
Working along with Mike and myself, the Theatre Production course is lucky to have many other talented professionals including Chris Britton and Caroline Francis, specialists in the fields of Construction and Design and Costume respectively. Add to that the many visiting lecturers, all of them theatre or show professionals with proven track record, plus our tie ups with many theatres and support companies, you could hardly ask for a better start in a career working backstage. Everyone teaching you has a background in working in technical theatre, not just teaching it.
If working on shows, theatre or otherwise, is something you really love, find our more about the Theatre Production course at Bath Spa University and come along to one of our open days. Mike and I would love to meet you.
Rob Sayer