This summer looks like the beginning of a start of a promising career for one lucky school leaver who is going to Glastonbury Festival 2008 with one the main lighting suppliers . Surely, it doesn't get much better than this when you are young and starting out….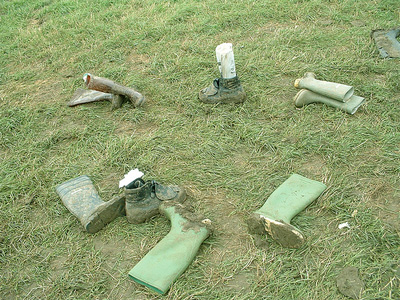 All that was found of the Glastonbury 2007 lighting crew after the Get-Out. Photo by Tim Parkinson
On Stage Lighting reader Joshua Sims is an 18 year old with an interest in stage lighting. He has spent the last few years learning lighting and sound skills in local venues and his school productions culminating in a successful lighting design for High School Musical in 2007. The chance to control a moving light rig using a brand new Avolites Pearl Expert was topped off by picking up some freelance lighting work for the schools lighting hire company.
Fast forward to this week.
Josh has only just finished his exams and got himself a pretty cool summer job for anyone interested in lighting. Better than working in the local burger joint.
Glastonbury Festival is the summer meeting point of a large part of the UK stage lighting industry (oh, and some bands too). The lighting business seems to shut down while everyone finds an excuse to head down to Somerset for a week. One of the "official" suppliers (the ones who actually have to do some work) of equipment and crew for many of the stages at Glastonbury is Fineline Lighting. Josh has managed to get a place on the Fineline crew, working the festival and getting a brilliant experience on a large mud fest… sorry, music festival.
Now, Josh isn't the son of a famous LD or even a Saudi Prince to deserve such special treatment. In fact, his stage lighting CV is typical of many aspiring lampies – few school shows, helping out at local small scale venues – generally getting involved etc.
So, how did he get the Glasters gig?
Josh had the guts to pitch up at a lighting company, get some casual work and took their advice on getting himself some Public Liability Insurance. He proved himself to be reliable and showed a willingness to learn (something mentioned by all our experts in the "Stage Lighting Education…" series). It was this attitude that persuaded Fineline to take him to the festival.
Josh says: " This is a great opportunity so I hope to get stuck in and really prove I could be a useful asset for future work."
It just goes to prove that, with the right attitude, even the most road hardened lighting professionals are willing to help the next generation. We were all beginners once, y'know.
I am not working Glastonbury 2008 (instead doing all the other gigs going on that weekend while my colleagues play in the Somerset mud) but we will be catching up with Josh afterwards and look forward to hearing all about his first major festival experience. Don't forget to check out On Stage Lighting or subscribe to our feed to get the latest updates. We might even get Josh to send us the odd text message to the On Stage Lighting Twitter.
If you have any "you lucky bastard" comments or goodwill messages for Josh before the Glastonbury crew "break" him, put them in the comments section below.
Update: He's back – so how did Josh get on.
Find out in The Tea Boy returns…