For years the PAR Can has been the great workhorse of the stage lighting industry, particularly in band/DJ lighting. The 1000w PAR 64 Can is the daddy of the PAR family and PAR 64 lamps (the bulbs that go inside the Can) are available to buy in different beam widths. On Stage Lighting takes a look at the different PAR 64 lamps available and their uses in stage lighting.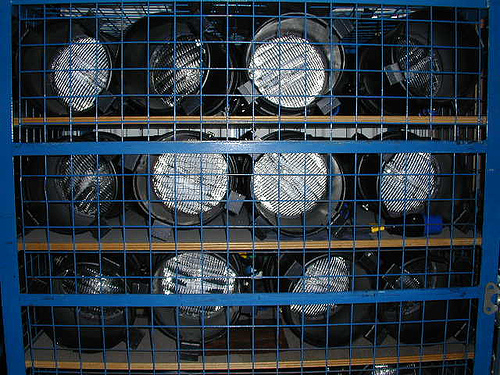 It is disgraceful in the 21st century,we are still treating our PAR cans this way!
Thanks to Alex__w for keeping the lantern welfare issue alive.
The PAR 64 Can is still popular because: a) It provides a good 1000w of punchy light; b) A PAR Can (the lantern body shell) and PAR 64 Lamps are still fairly cheap to buy.
PAR actually stands for Parabolic (the shape) Anodised/Aluminised (the shiny bit) Reflector (the reflector!)and you can buy PAR Lamps them in 240v or 110v supply voltages. To alter the size of your PAR Beam, unlike most other stage lighting lanterns, you need to put a different PAR bulb in. PAR lamps also do not have a very circular beam but produce a light beam that is quite oval, particularly the wider bulbs.
Guide To PAR 64 Lamps
Here is a brief rundown of PAR 64 lamps, the beam angles are approximate and are the most "useful" largest part of the ellipse due to the nature of the PAR lamp beam shape:
CP60 VNSP PAR 64 Lamp – Very Narrow Spot. Beam Angle 12° approx. This PAR 64 lamp is good for really tight spots, thin light beams cutting through smoke or streaking across stage set/cloths. Also used on large music stages to provide spotlights to hightlight individual band members. The CP60 PAR lamp gives a really intense "splat" of light that can be a bit striated (streaky) across flat surfaces.
CP61 NSP PAR 64 Lamp – Narrow Spot. Beam Angle 14° approx. The CP61 is the general spotlight of the PAR 64 family producing a tight beam of light that has more uses than the CP60. This lamp is a useful tage spotlight and makes fairly good beam structures in smoke. Could be used to for colour washes with a large throw distance ( further than 8m) although you would need a fair few CP61 PAR lamps to do this.
CP62 MFL PAR 64 Lamp – Medium Flood. Beam Angle 24° approx. CP62 PAR lamps are pretty much everywhere doing jobs such as colour washes onstage, uplighting bits of set as well as spotlighting people onstage. These bulbs are great for washing intense colour around a stage or lighting up columns or architecture. The beam of this PAR lamp is extremely elliptical and their orientation, like other PAR bulbs, is set by spinning the bulb inside the PAR Can.
EXG PAR 64 Lamp – Wide Flood. Beam Angle 50°(?) approx. A wider flood PAR that can be used to colour washing with shorter throw distances though it can lack intensity. Used with a short nosed PAR Can. This PAR lamp is not too useful.
CP95 WFL PAR 64 Lamp – Wide Flood. Beam Angle 70°(?) approx. This PAR lamp is pretty darn wide, meaning that is lights all over the place but lack the punch and intensity of other PAR lamps. The CP95 is only useful when you needed a good sized beam of light, lit from very close. To get full width of this PAR bulb, use a short nose PAR can.
Raylight Reflectors – The Devil In PAR lamps. Beam Angle – Who cares? The raylight reflector is a cheap parabolic reflector with no front lens, designed to accomodate a quartz halogen "standard" stage lighting bulb, often 500 watts. These PAR lamps produce a messy "splot" of light that is both horrible and burns out gels like anything especially in short nosed PAR cans. OK for beams in smoke (until the colour burns out, that is). Don't buy.
Testing PAR Lamps
PAR lamps are simple incandescent light sources, using a heated metal filament in a glass envelope.  This means you can test them using a multimeter in the same way as an ordinary light bulb.  Set the meter to Continuity (Beep) or Resistance (Ohms) and put the meter probes on the two terminals on the back of the lamp.  A 'Beep' or a low resistance reading indicates that the PAR lamp is working.  No beep or a resistance more than a few ohms shows that the lamp is dead.  It's common practice to bend the terminals of a dead PAR lamp back flat against the ceramic terminal housing once tested as not working, to stop yourself and other picking the lamp back up as a working one.
How Do I Tell Which PAR 64 Lamps Are In My PAR Cans?

Great pic of a MFL Par Lamp. Thanks to VeldaZ
Have a look down the front of your PAR Can with the unit switched off. If the lens (glassy front bit) of the PAR bulb is completely clear, then it is a CP60. If the lens of your PAR lamp is frosted, a CP61 and if the glass separated into small squares, then it is one of the larger floods, probably a CP62. If your PAR can has a Raylight Reflector in it (a shiny dish with a small quartz bulb sticking up, and no glass) then "step away from the PAR Can , sir" and go and find something else to light your gig with. Like a cigarette lighter.