What is 'busking' in stage lighting control?
Busking, also known as 'punting', is controlling lighting for a live show in response to the show itself, rather than pre-defined ideas and fully recorded scenes or looks. Electric stage lighting has probably always contained an element of busking and an example of how a lighting rig could be played like a musical instrument can be seen in early control board designs such as Fred Bentham's "Light Organ".
When memory systems started to be used to 'record' and play back fixed lighting 'states', cue to cue, busking fell out of favour with linear theatre shows. The art of busking continued to be developed in other genres, particularly in concerts and discotheques, the latter with the role of the 'light jockey' in clubs. Other types of live performance also rely on an element of lighting busking, particularly in events where it may not be known exactly what is going to happen and often there is scant rehearsal time.
Who is the course for?
Someone new to concert/club stage lighting control or who has some experience of theatre stack lighting control but lacks confidence in how to work in more flexible playback situations.
Who is the course not for?
Someone with intermediate live lighting control experience who is looking for new hacks, tips and tricks to help them busk shows. This is an introduction level course and doesn't move into more complex macros, semi-automated shows and all the other shizzle that's cool these days. This is the kind of stuff you would expect to see in courses at a higher level and is part of my BUSK201 course.
Why join the course?
Busking lighting and video control is something that myself and my colleagues take for granted. We know what it is, how it works and all have our own techniques and strategies developed over the years. Many of these have been developed while borrowing other ideas from other lighting programmers and operators.
But.
When I started developing this learning, the stuff that I also teach to students 'live' at Bath Spa University and in other places, I realised that the world is full of people that don't have access to all the knowledge that many of us developed 'on the road'. To those people, busking lighting is a black and mysterious art. This includes pretty experienced theatre lighting professionals.
Busking lighting to live shows, music or others, is hugely rewarding and a lot of fun. It's also a core skill for many lighting professionals and something that is worth conquering at a certain level in order to expand your own skill set. In the 'old days' busking rock and roll lighting with huge rigs of PARs and ACLs was fun and seemed complicated enough. With the prevalence of moving lights and now live visuals controlled from the lighting desk, the PAR days seem easy. This means that it is as important to get the basics under your belt, including how to think about a rig in terms of busking.
What will I be able to do?
The Intended Learning Outcomes for this course are that upon complete you can:
* Make decisions about a rig and how it breaks down into elements for busking.
* Make decisions about a show / genre and choose the best and most efficient elements for busking.
* Design and program a base show file, ready for busking a range of performances.
* Respond to a show with lighting, in real time, using your own busk show file.
How is the course delivered?
T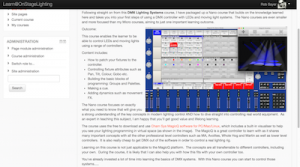 he course is delivered online and only requires that you have internet access and use of a basic spec PC/Mac/Linux computer to run the Cham Sys MagicQ software.
The course is delivered via my custom Virtual Learning Environment. It is the only one of its kind in the world and designed by me to be highly effective in getting you to the learning outcomes above. You may already know that I'm a specialist educator in this field, having made a career in professional production lighting. As tutor, I work with individual learners during the course – it's more than an online book or video series.
There are no fixed 'lecture' times that you have fit into your schedule.  All courses are delivered asynchronously.
Practical experience tasks use the freely available Cham Sys MagicQ lighting control platform, one of the best known desks designed specifically for busking. I use it for teaching because it is free, easy to access on any platform, and much of the learning is transferrable to other pro desks such as MA, Hog, Avolites and Martin. The MagicQ also contains a free and easy to work with visualiser built-in, so you can work with a virtual lighting rig while learning. You don't need to know the MagicQ before you start, you'll pick it up along the way.
Can I join the course?
Yes, if you have suitable basic prerequisite learning. Obviously, there is a base level of understanding needed to be able to tackle the course but this isn't sky high. A basic understanding and some practical experience of how lighting systems are controlled is the minimum. It doesn't matter which desk you know, we can work with your current knowledge.
What do I do next?
Email me at learn @ onstagelighting .co.uk to discuss your requirements. Please include important information in the email, including:
You or your organisation's needs from the learning after completion (use case, competencies etc.)
The current level of learning for the participants.  What so you/they already know?
Your expected budget. Time, commitment, and money.
Cheers,
Rob