Stage and theatre lighting design uses your technical and artistic skills to specify equipment and create the look of a production. Planning lighting positions and communicating your ideas by drawing a lighting plan used to involve what was called techincal drawing but pens and paper have given way to CAD – Computer Aided Design. So, where do you get some FREE stage lighting CAD symbols…?  Plus a new lighting symbol library for Open Office Draw.

On Stage Lighting runs CAD training courses that are delivered worldwide using a custom online Virtual Learning Environment (VLE). Online courses include training in AutoCAD and Vectorworks Spotlight for use in the performance industry.
If you would like to access one of these, just fill in your email in the box below to join the Learn Stage Lighting Guest List (MailChimp) and I'll let you know as soon as the next course is running.
There are CAD video resources at the On Stage Lighting YouTube channel, including tutorials on using AutoCAD for stage lighting design theatre and moving your learning between AutoCAD and Vectorworks. We also have series of screen tutorials on using Vectorworks Spotlight 2010.
On Stage Lighting has been visited by many budding lighting designers via searches for "theatre lighting symbols", "Stage Lighting DWG" and other lighting CAD related topics. Unless you are lucky enough to own a genuine stage lighting CAD package, as outlined in Stage Lighting Design Software .. you might be struggling to find a free source of theatre lighting symbols to use in your CAD.
Luckily, the lovely people at theatre CAD specialists Modelbox have a stash of free lantern symbols, including the old Strand Patt. lanterns that still survive in schools, churches and small theatres everywhere. The lighting symbols of these ancient lights are familiar to "old lags" of lighting, being hand drawn using a Rotoring pen and green plastic stencils.
So, enough rose tinted memories – what theatre lighting symbols have they got?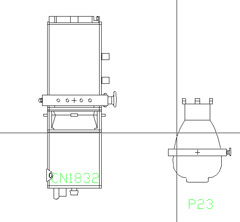 Modelbox have kindly provided .zip files of each lighting manufacturer plus a complete package. Each symbol file is in .DWG format (R14 release, if you are interested) which is a standard CAD format that is supported by all CAD packages and also vector drawing software such as Adobe Illustrator and Corel Draw. The files also contain attributes/layers of other stage lighting information such as channel, focus, colours etc. which make them extremely useful when used in conjunction with a CAD software which allows full use of attributes. You can use these to plan gel cuts, patch and dimmer information.
The symbols in the files cover:
Lighting Accessories – A whole rack full of lighting accessories, scrollers, stands haze and fog machines. All those extras. Zip file
Followspots – A range of different generic Followspot symbols.Zip file
ETC – CAD symbols of Source Fours, S4 Juniors and S4 PARs. Zip file
Profile Spots – Some generic profile spots icons. 500w, 1000w etc. Zip file
CCT Silhouette – The different sizes of the Sil range. Zip file
TV and Film lighting – A few generic symbols of mega lanterns used in the TV business.Zip file
Altman – Spots, Fresnels and PARs of the Altman range. Zip file
Fresnels – Generic fresnel CAD icons of a range of sizes. Zip file
PAR Cans – PAR36 and PAR64 with different lamps such as MFL, WFL, VNSP etc and shortnose (stubby PAR) versions. Zip file
Selecon – Symbols for the Selecon ranges including Acclaim fresnels, spost and floodlights.
Strand – Pretty much everything you could want from the Strand range including Patt23, Patt123, Patt734 and even P23N! Also includes the modern fresnels and spotlights like the Minim, Prelude and Cantata ranges right up to the Strand Brio. Zip file
So, there's some free CAD symbols for your next lighting design. The package does not have any intelligent lighting, moving lights or LED fixtures but these are usually available in .DWG and .DXF formats from the lighting manufacturers anyway.
Has this been useful to you? Click below with your answer.
Yes, this information is valuable to me!!
No, On Stage Lighting has not helped me yet
More information about the stage lighting symbols files are on the Modelbox website.
Update: Mark Lautman has given us a heads up about his new theatre lighting symbol library for Open Office Draw.  If you don't know, Open Office is a free suite of products similar to Microsoft Office – we use the word processor and spreadsheet programs in this office.  I haven't used Open Office Draw but assume it similar to MS Draw or Visio and Mark has developed a number of native symbol libraries including one specifically for stage lighting planning.
Check out the OO shapes and let us know what you think.