A quick look at the past, present and future of user interfaces (UI) in lighting console design with the question "Are we actually doing it right?"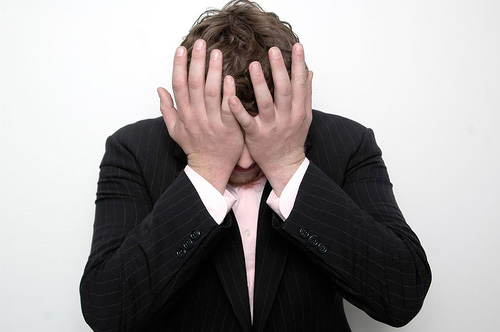 So, there we were in the middle of a series of tutorials on the Cham Sys MagicQ when something unexpected happened. Something totally out of the blue. A rumour went around that some students in Bath had used the MagicQ PC and PC Wing as part of a recent show – and didn't like it! They didn't get on with it and eventually gave up and swapped it for another controller. The other controller was (wait for it) a Pulsar Masterpiece! (Igor, I thought I told you to round up all the DisasterPieces and crush them?) How could this happen?
At first, this seemed like a case of youthful exhuberance vs. RTFM but I was assured that the User Manual was consulted on this occasion. A further conversation on Twitter brought up the whole question of what makes a good User Interface (UI) for a lighting control. I realised that current console interfaces that work so well for me were evolutions of desks that I already knew, with concepts that are rooted in lighting control history. What if you didn't have a lighting console history?
What if you had never used a Strand Galaxy or a Celco Gold? Or even a Hog II? What if you only ever used a computer with a Windows style GUI? Would any of these flippin' desks make sense to you?
What do you want from a lighting control?
Speed – You want to be able to do as much as possible in the short time available.
Flexibility – You want the console to give you the flexibility to control your specific show, and there are many kinds of show with different control needs.
Control – Well, duh.
To Spend As Much Time As Humanly Possible Looking At The Stage And Not Fumbling With Buttons And Other Input Hardware – Er, like I said.
There are two types of lighting controller: Those you know. And those you don't.
The first type ticks all the boxes because you can use it's many functions quickly, mostly without looking at the thing. The second kind is what makes you question the UI and can turn you off that console early on.
Modern consoles have evolved from older consoles and older operators have evolved with them. In stage lighting control we have some versions of our own standards, but they are incomplete and not always obvious to the newcomer. And first impressions count.
Long term vs short term usability
The new generation of techies have grown up in a world full of standards. Across software apps, the File menu has always been Top Left and it's contents are pretty predictable. Standards are great because they allow the new, the lazy and (let's face it) the stupid, a better chance of being able make at least some progress. Most PC apps give three or four ways of doing something in an effort that you will find at least one of Keyboard Shortcut / Right Click Menu / Top Menu / Toolbar.
The trouble with these standards is that they have led the world to believe that anything technical can be used, if you just "have a go". Someone recently asked me to turn the ring tone on their phone off but I had never seen this phone before , how hard could it be? After a couple of unsuccessful attempts (I hung up on their mother and probably deleted at least one of their Contacts) the ringer was sorted. I could use the phone but only to the low standard.
When you become familiar with a UI, your muscle memory tunes into it and things happen automatically. Speed and accuracy are increased, freeing your mind up to concentrate on the end result while forgetting about process. Looking for functions vs. looking at the stage.

Who is the UI working for, the casual prodder or power user – or both?
A Cham Sys problem?
Cham Sys seem to have a great idea – Make a good console with loads of familiar features, add some more and create a platform with possibilities for the future. Make a PC software version that is compatible with cheap DMX output devices and hope to build a fanbase, proficient in your console and specifying the top models in your range.
But…
The first time I saw the MagicQ it was real and was accompanied by the man who designed it. And I had a history of using the Hog II, which the MQ shares many concepts. I liked the Cham Sys as a lighting desk and the fact that it came as a free PC app was a bonus.
Perhaps you and I had a different experience of the MagicQ UI. Perhaps you downloaded MagicQ PC, read the help, tried to make sense of an already alien world. No one can pretend that a lighting desk plonked on a computer screen is the ideal UI for anyone. Hell, I defy anyone to download Grand MA onPC and work out that it's a half decent lighting console. However, the MA has the kudos of being "the" desk on those shows you read about in L&SI, it doesn't have to introduce itself to you via a PC screen.
The trouble is, many people encounter tghe MagicQ via the PC version and perhaps with little console history. Is this the best first impression? Is there the tiniest possiblity that what seemed like a great idea to spread your message might actually backfire when you can't put your best UI face on to the newest users?
Where are we GUIng now?
(ok, enough UI puns for today)
While trying to empathise with the guys struggling with an alien interface, I started to question the future of lighting interfaces and their ease of use for all kinds of users – casual and dedicated.
A lot of my initial thinking on this subject was centered around the physical aspects and I asked a question over at the Blue Room that provoked some interesting opinions. Are we using the right hardware and software? Do current lighting controls only work for me because they were designed by my contemporaries? Would it be better if all UI were further standardised?
So what do you think? What kind of UI do you think would take us into the future of lighting control and cater for all users?
Image by Zach Klein on Flickr