As both a stage lighting and teaching professional, On Stage Lighting's Rob Sayer HND PG Dip FHEA is pleased to be able to offer stage lighting training in the UK within schools, drama societies and other interested groups and worldwide help online.
Stage Lighting Courses Online
Rob is an e-learning specialist and is please to provide online stage lighting courses, live webinars and one-to-one tuition through a range of computer-mediated communication (CMC).  The last few years have been spent Alpha testing these methods with small learning communities of beginners in stage lighting, providing e-mentoring to lighting professionals and created 'blended' learning units for undergraduates and other stage lighting online learning.  You can find out more by emailing learn at onstagelighting.co.uk with your learning requirements or signing up to be on the next 'Guest List' at http://learn.onstagelighting.co.uk/stage-lighting-courses/
Hands On Workshops
Bringing 20 years of experience in the theatre and event industry, Rob's stage lighting workshops are grounded in professional practice and delivered to all levels of abilities. A former stage lighting professional and now Senior Lecturer at Bath Spa University, Rob leads modules in Lighting, Sound and Audio Visual as well as professionalisation training for graduates on the Theatre Production course.  Qualified as an educator with a PG Dip of Professional Learning In Higher Education, the high standard of Rob's teaching practice has been recognised by the Higher Education Academy with membership as a Fellow.
Workshops are tailored to specific needs of a group and are often delivered in your own venue using your equipment, often over 1 or 2 days. Rob has worked in schools on light colour theory with 5 / 6 year olds, lectured as a guest at other Universities and led stage lighting workshops for drama societies. His style is fun and informal, encompassing practical elements of stage lighting along side relevant concepts and theories. Training sessions are hands on and everyone gets involved.
Introduction To Stage Lighting and more..
Some example course content includes:
Introduction to stage lighting – theory and practice
Lighting design in your venue
Getting the most from your stage lighting equipment
Working within your constraints – time, space, budget, knowledge
Practical use of moving lights and other complex lighting fixtures
Professional lighting design workflow and lighting practice
Communication and paperwork for the lighting team
Lighting design using colours and effects
Getting the most from additions to your stage lighting system
Moving light programming for different show genres
Lighting design and control for live music
Lighting for conferences and corporate events (popular with AV technicians)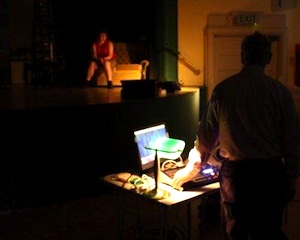 All stage lighting training are run at the pace and skill level of your group and designed to directly related to your own specific needs as learners. The workshops put professional lighting theory and practice into context with your own venue and equipment, making it invaluable learning for all attendees. Each stage lighting course also enables your group to reflect on future action to improve your lighting system or workflow, getting better results for the future.
If you think that you or your group would benefit from some specifically designed stage lighting training, then email editor at onstagelighting.co.uk with some ideas about what you would hope to get out of a short On Stage Lighting course. We can then make suggestions regarding content and timings. If you are part of a drama society, it's actually quite cheap to put on a course in your venue with 8 – 10 attendees. Don't forget that the experience is beneficial, not just for lighting enthusiasts but also Directors and other members of your production team!
Currently stage lighting courses are run in England and throughout the UK, but Rob does have a passport and, contrary to popular myth, is allowed out of the country.
Drop us a line at editor at onstagelighting.co.uk with your training wishes.
Client Quotes
Had a committee meeting last night and everybody was full of praise for the day. It proved not only a fantastic learning experience but a chance for everyone to bond in a supportive and instructive environment.
Very many thanks for a wonderfully professional and inspiring day. We all gain a huge amount from your skillful presentation and I hope we can in due course have another day to take develop our skills further.
We all learned a good deal, & given that there were mixed abilities to begin with the whole weekend was pitched just about right.
From my viewpoint (on-stage, producer & lighting crew type bloke) I have to say that it was a most enjoyable experience.
The whole weekend was engaging and illuminating. For me being more used to having lights pointed at me rather than being on the technical side it was very useful to start at the beginning on the purpose of lighting and what it is intended to achieve.
Images of a stage lighting workshop at Rottingdean Drama Society.