The gobo, one of the oldest stage lighting effects, is still one of the best, cheapest and most versatile even today. A gobo is traditionally a piece of metal, with shaped holes cut into it, that produces a pattern of light. The design of the pattern can be anything, from abstract shapes to a sign or logo, and is inserted into a spotlight at the focal centre (known as the "gate") between the lamp (bulb) and the lenses. This guide to the gobo looks at the types of gobo currently available and gives you some tips on their use.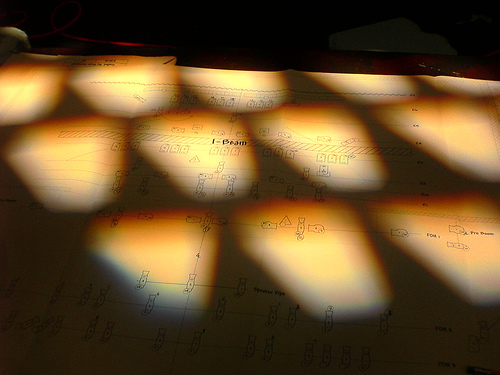 Image by DMBfreakno.41
Types Of Gobo
Metal Gobo – The traditional stage lighting gobo is made from sheet metal that is cut out to produce the gobo pattern. The metal gobo masks out areas of the spotlights beam and are held in place in the spotlight using a gobo holder. Gobo manufacturers are able to cut very intricate designs out of the metal although some areas of a pattern design have to be connected by a small tag. Metal gobos are the cheapest way of producing patterns in stage lighting and, when used well, still look great.
Glass Gobo – These gobos are made from glass with the gobo pattern etched using aluminium or other coating to mask out the light. This means that even more complex images, with no metal tags, can be projected. Glass gobos are fitted in special gobo holders and are extremely fragile. They are only designed to be used facing one way in the spotlight so when you buy one, tell the vendor the make of light so that the image is projected correctly. Glass gobos can crack in use if not heated up gently in the spotlight or if the beam is focussed with a "hot spot" in the centre.
Full Colour and Dichroic Gobos – These gobos are made out of special glass and use a variety of techniques to enable partial colour or even full colour images to be projected. They are quite expensive and fragile so care needs to be taken when using them.
Gobo Designs
Gobos are available in a multitude of stock pattern designs. Some are abstract patterns while others include text, logos and graphic designs. A popular and effective theatre stage lighting effect is to use "break up" gobos, blotchy patterns that produce a random texture of light, and leafy patterns to suggest the light coming through a tree canopy. Other natural gobo designs such as clouds, water and even a moon are useful.
More pictorial gobo designs such as light from windows, street signs and even "happy birthday" (can't say I have ever used that!) are sometimes required and gobo manufacturers such as DHA or Rosco have a massive stock of gobo designs available "off the shelf".
Custom Gobos
If you can't find exactly what you want then you need a custom gobo. A gobo manufacturer will take your design and create one or more gobos to suit you in the size that you require. A custom gobo will cost a good deal more than a gobo from stock and so is probably not suitable for a school play. A large theatre show or corporate event is much more likely to require some kind of custom gobo.
Useful Things You Might Not Know About Gobos
When trying to get a gobo image REALLY sharp, try to get the light source as close as possible to 90 degrees to the surface you are projecting onto and use a narrow spotlight.
You can improve a blurry gobo image by tweaking the lamp tray of you your spotlight. If you adjust the lamp so it is not so hot in the centre, the image will improve.
The wider the angle of your spotlight is, the less chance you have of getting a sharp image all the way across the pattern. Any spot wider that about 30 degrees and you will only ever get one part of the gobo image to sharpen up. 50 degree spotlights are only really good for very arty looking break up gobos.
If you are projecting breakup or clouds you won't care about a sharp image. Focus a zoom profile spotlight as small as you can get away with (this makes sure you get the most light possible out of it) and sharpen the gobo image using the rear lens. When you are happy with the image size, experiment with "blowing" the focus to either side of pin sharp to get your desired look.
Break Up gobos and leafy patterns look even better using split colour gels. Use a diagonal 4-way split with two or more colours and experiment with the focus.
Fixed (single lens) spotlights will always focus a gobo better than a zoom (two lenses) but you won't be able to adjust the image size. All zoom profiles have an optimum focal length where your gobo looks really great, often at it's medium beam angle.
If you are having trouble getting a gobo image to sharpen up well, try using a "doughnut". This is a piece of black alumnium foil ("black wrap") cut and inserted into a gel frame. Cut a roughly circular hole in the centre about 1/3 the diameter of the spotlight lens and insert the doughnut into the colour runners of the spot. This cuts down some of the lens aberration and helps to sort out the image. It will also cut down your lights intensity a bit but you can always open the hole a bit larger, depending on the focus of your spotlight. In the trade, we often use cardboard dougnuts but we can't recommend that as they are not flame retardent.
When using glass gobos, try not to peak the the lamp with centre hot spot as it can crack the gobo as it heats up. Also, when you dim up a glass gobo for focussing, don't just stick in at 100%. If you don't run a glass gobo at full and heat it up gently in should not crack. During your show you can always pre heat the gobo at 20% – 30% just to keep it warm until you need it.
If you have ever wondered what the little notches around one side of a metal gobo are, they are for rotational adjustment. The gobo is supposed to be mounted in gobo holder with the notches pointing up to the gate opening. Using a screwdriver it is possible to slightly rotate the gobo in it's holder for better image alignment. Most stage lighting spolights these days have rotating lens tubes which make this unnecessary.
Good Luck.
Rob
You Will Also Like:
Books On Stage Lighting – 5 Of The Best!
Rob Sayer HND PGDip FHEA is a Senior Lecturer in Technical Theatre Production, mentor, and consultant in stage lighting and education. As a professional lighting designer, Rob designed and programmed theatre performances, music festivals and large corporate events for blue chip companies while travelling all over Europe. With a background in theatre, he combines traditional stage lighting knowledge alongside fast moving lighting and video technology in the world of commercial events.